Motif Use Case
Inspired by the results presented by Nguyen et al, we would like to investigate the effects of AP1 (TGACTCA), ELK1 (ACCGGAAGT) and RFX (CGTTGCTAGGCAACG) on gene expression. In the original study, the authors focused on one motif at a time to show that they have a strong impact on the ability of a sequence to act either as a promoter or as an enhancer. It was also shown that the effect of each motif can vary significantly depending on the background.
To explore the impact of different backgrounds, different motif combinations and different spacings, we use the following settings:
First we pick two regions from the mouse genome that do not show any regulatory activity according to the available information from the sources available through the UCSC genome browser. The center of each tile (in mm9 coordinates) is reported in the header.
Sequence and Motif examples
>bg1_chr6:77195320

tgtgtcttaaaaaaacaaacaaacaaacaaaatcccgaaataaaacacaacaaaaaaaaccccaccccataatcttcaggacagtctgtc
>bg2_chr9:37271330

gtatctactctctgcccttacaacctcctcccagaaagaataaaatgtttctcatcctggaagctacagtgtgtcacacagtatactctt

The following motifs are used:
>AP1
TGACTCA
>ELK1
ACCGGAAGT
>RFX
CGTTGCTAGGCAACG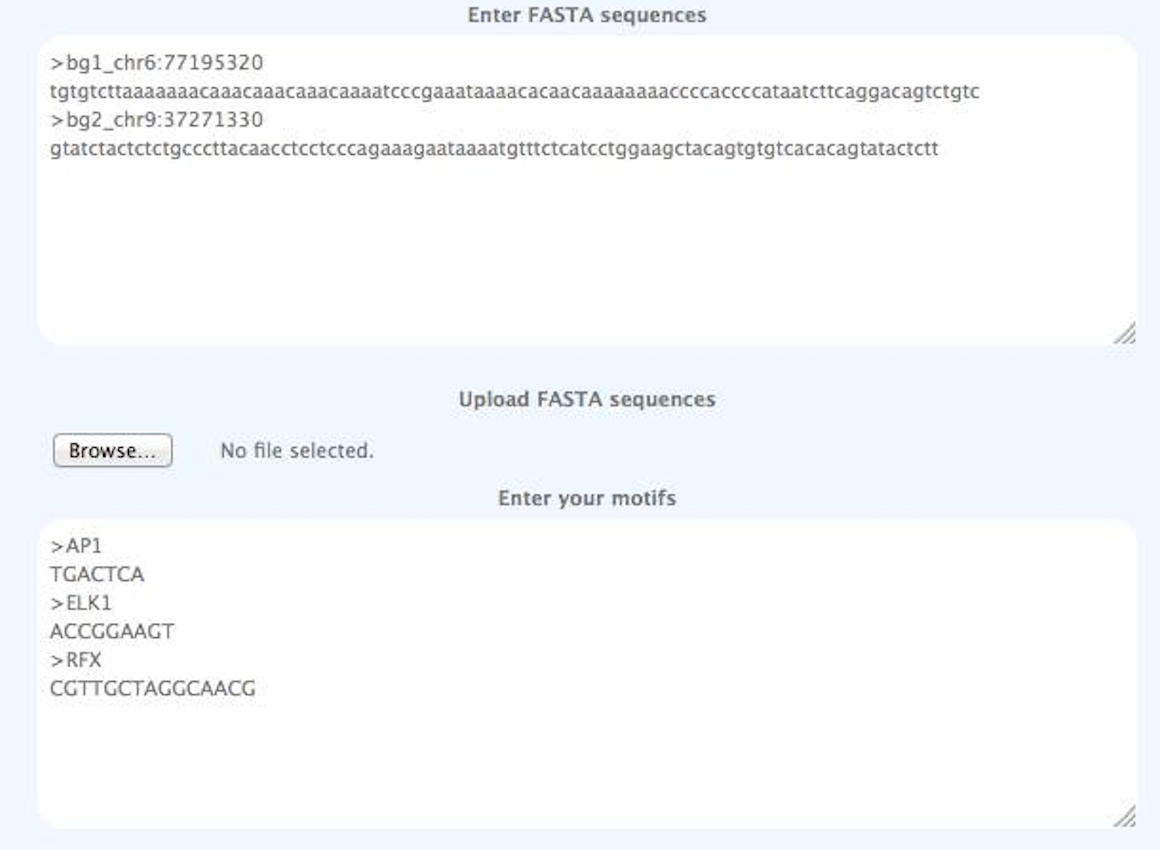 Restriction sites
Here we assume that the total tile length is 117 base pairs. For the experimental design, two restriction sequences are necessary: CACGTG and CAATTG. The restriction sites are rearranged so that they flank the background.

Barcodes
Since this gives us 90 bps to place three motifs and a barcode, we use 15 bps for the barcodes, and to reduce the bias we limit the GC-content of the barcodes to between 40 and 60%. We require an edit distance of 3 and we use 6 different barcodes for each sequence.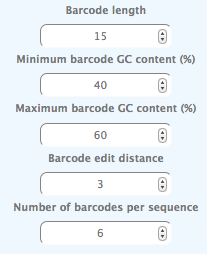 Spacing

Due to the relatively long tiles, we allow a minimum of 15 bps to each edge. Finally, to space the motifs we set the minimum and maximum spacings to 6 and 24, respectively, and the interval of substitution is set to 12.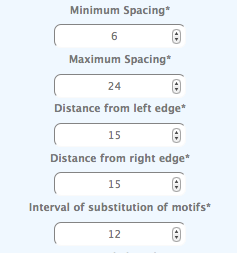 This results in a total of 5856 sequences.